A runaway bride looking to outrun scandal finds refuge—and her voice—in a small town.
Series: Henry Brothers Book #2
---
Synopsis
She's a famous country singer…and a runaway bride. He's a keep-to-himself small-town guy with secrets. Giving in to their attraction could lead to a big-time scandal for them both.
Themes

Runaway bride
Fish out of water
Small town
Opposites attract
Celebrity
Musician
Secrets
Full Description

No one can outrun a scandal…or true love…

Everly

Everyone thinks they know me. Joke's on them.

I don't even know myself these days.

What I do know is that I need time away from being country music's sweetheart. So, I left my PR stunt of a fiancé, and I ran.  

Right into Seth Henry. 

I wasn't looking for love when I came to Dragonfly Lake. But what am I supposed to do now that I've found it?

Seth

I learned the hard way that relationships aren't for me.

So, helping Everly had nothing to do with romance. Or how sexy she is. Falling for her was not part of the plan. 

Too bad no one let my heart in on the plan. 

I know happily ever after isn't in the cards for us. One day, to protect my secrets, I'll have to let her go.

I just hope there's a way to do it without destroying us both…

Unsung, book 2 in the Henry Brothers series, is a light, small town, runaway bride contemporary romance that can be read as a standalone. It has a little humor, some spicy times, and plenty of emotional, heartwarming moments. Download today and watch Everly and Seth try (and fail) to avoid their HEA.  
Read Chapter 1
Price:
Regular price
Sale price
$4.99 USD
Unit price
per
Sale
Sold out
If you would like your paperback book signed by Amy, please put the name for personalization in the "Special Instructions" field on the cart page. US addresses only.
---
Buy together and save!
$4.99

+

$4.99$4.99

+

$4.99
---
Bundle Offers from Addly
---
Ebooks are delivered instantly through email via BookFunnel.com. Here's how it works:
Purchase Ebook or Audiobook
Receive email from BookFunnel with your download link
(Ebook) Send to your preferred e-reader using provided instructions
(Audiobook) Download the BookFunnel App
(Audiobook) Open BookFunnel app and add your new audiobook(s)
Enjoy your book!
Share
View full details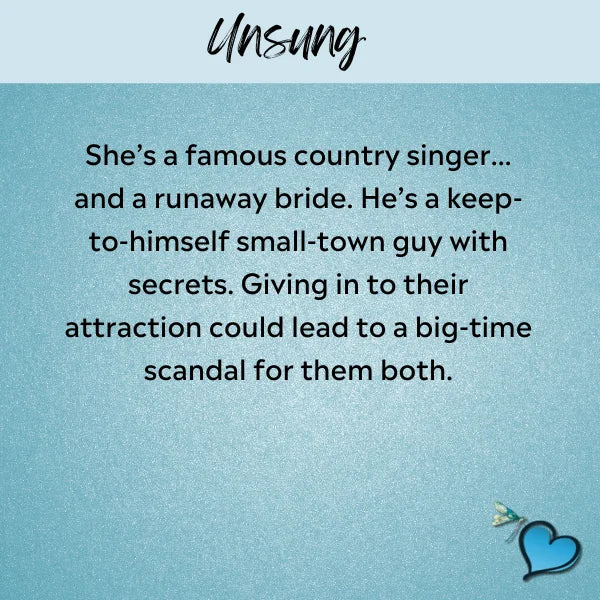 Sugar and spice
Everly is the sugar and Seth the spice.
Seth has renovated his garage appartment and is surprised to discover his tenant is a country music sweetheart. He becomes protective and kind for keeping her identity a secret. Everly is on the run..from the altar, her intended groom being a loved counterpart.
A lot of heat, smouldering between sexy the couple and media fallout.
Another Henry brother gets his girl and HEA, but there is a lot of ifs and buts before it comes right. He has a secret of his own, one that happened years ago that has made him feel ashamed and controls his feelings and privacy. Everly has never fought for anything before and needs to get her head around things, decide where her future lies and difficult conversations are to take place.
Dragonfly Lake magic has a way of hitting when and where it is right.
Be true to yourself!
I'm loving the Dragonfly Lake books so much. Seth is a workaholic who is afraid of relationships. Everly is country music's sweetheart but isn't sure that it's worth the price. She runs away from her wedding with the help of a friend and finds herself renting Seth's garage apartment. Their journeys of self discovery take them on a wild ride together.
I didn't want the story to end
What's better than a runaway bride and a protective rental landlord? Oh, and of course a small town - Dragonfly Lake. I am so in love with both of these characters. Everly's life is mapped out for her and thank goodness for her best friend's guidance on her wedding day. Drea pulls her aside from the pre-wedding chaos to make sure that Everly is sure about getting married. And sometimes it only takes seeing the true love of another couple to know that what you have isn't that. Thus begins her secret escape.
Seth has remodeled his garage apartment and has put it up for rent - because why wouldn't he earn some money on it. But something doesn't add up with his first tenant. To start, why is why renting the apartment at the last minute and late at night on a Saturday? Then something sees off with the way she is acting. But then, maybe she just wants her privacy.
I loved how protective Seth was once he learned who his tenant was, and that he admitted to her he had learned her identity. Everly may be famous, but her one best friend lives across country and she is in need of a sounding board. I just loved these two together, from the initial secret to their sharing their personal lives with each other to the growth of both of them. I didn't want this story to end.
Wonderfully sweet love story.
I loved Seth and Everly's story. I was pulled in at Chapter 1. Seth and Everly's chemistry jumps off the pages. I love how they worked through their issues and grew together each helping the other. I am enthralled with Dragonfly Lake community and how they come together and protect Everly as one of their own. If you like a sweet love story, this one is for you. So excited for Cash's story.
Returns

We want you to be happy with your purchase. Our Returns Policy outlines the process for returns and refunds. You can also Contact Us with any questions.